By Gregg Sangillo | July 11, 2017
American University part-time undergraduate Arnetia Walker recently took time off from school to star in a production of an August Wilson play, Ma Rainey's Black Bottom, in Red Bank, New Jersey. Tony Award-winner Ruben Santiago-Hudson, a personal friend of the late Wilson, directed the play.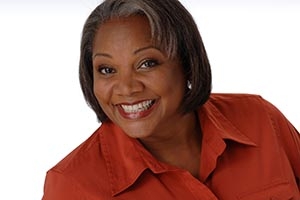 For an accomplished actor with a lengthy Internet Movie Database (IMDb) page, Walker doesn't let great acting roles pass her by often. And she's still expanding her repertoire and education. As a nontraditional student, she's now a senior film and media arts major in AU's School of Communication. She's also a literature minor in the College of Arts and Sciences, and she's hoping to write at length about her experiences. And whatever form it takes-book? screenplay?-she's going to have a fascinating story to tell.
"I have a wealth of stories in me, and I've lived a lifetime. And I wanted to know how to get those stories written down. And that's something I've learned at AU very well," she says.
Opening Credits
Walker was born in Columbus, Georgia, in the mid-1950s. Walker was just a baby when her mother died, and she never knew her father. An orphan, various family members-aunts, uncles, cousins-helped raise her. "In the South, people just kind of took care of each other-especially in those days," she says.
But she also describes that period as the "waning years of Jim Crow," and she remembers going to segregated movie theaters. "We had to sit up in the balcony, and before entering the theater, we [African Americans] had to wait. Black people and white people couldn't go in together. Even at that young age, it just struck me. Why? Why do I have to wait? I was very excited to go in," she recalls. "But then once the movie started, all of that just didn't matter."
Indeed, she was entranced by the images and sounds of the silver screen. Walker says she knew she wanted to be an actor after watching an arresting Doris Day in Calamity Jane.
Dreams and Dreamgirls
Walker later moved to New York City and graduated from the High School of Performing Arts (the school that inspired the movie Fame). She started building a résumé in the New York theater world, including a small part in a musical version of Two Gentlemen of Verona with Stockard Channing and other future stars. "I was a baby, of course, but this was my training ground," she says.
She was later cast in the celebrated Broadway musical Dreamgirls. She performed in both New York and Los Angeles, and eventually played all three of the Supremes-inspired parts. Walker was itching to play Effie, until finally getting a call from director Michael Bennett at 4:00 p.m. for a show that night in L.A.
"Michael says, 'Arnetia, you know how you always wanted to be Effie? You're on tonight. Get over to the theater,'" Walker recalls. The part was usually played by Jennifer Holliday, a big star at the time. "The announcer said, 'Ladies and gentlemen, tonight the role of Effie White will be played by Arnetia Walker.' People were yelling 'boo!' And I was like, 'Oh my god, how am I going out there?'"
She says she did overcome stage fright, and the audience naturally roots for Effie's character.
Ready for Prime Time
In the early 1980s, she got a movie part in The Best Little Whorehouse in Texas with Dolly Parton and Burt Reynolds. She'd eventually land a strong role in the film Scenes from the Class Struggle in Beverly Hills (1989), and Hollywood took notice. "Soon after that I just started doing lots of television and film, because it opened doors for me," she says.
She subsequently became one of the regulars on the NBC TV sitcom Nurses. It was a spin-off of the show Empty Nest-which was itself a spin-off of The Golden Girls. "We were in the old Desilu studio. The same one where they taped I Love Lucy," she explains. "Susan Harris wrote it, and she was a hot writer at that time. I thought, 'Wow, yeah, I think I'm on my way here.'"
Later, she was cast as Mrs. Ross in the TV series, Popular, and she appears in some of the best-known TV shows of the 1990s and early 2000s: Everybody Loves Raymond, NYPD Blue, Living Single, Just Shoot Me!, and The Fresh Prince of Bel-Air, to name a few.
The Fresh Prince was one of her favorite experiences. She guest-starred with music legend Isaac Hayes. (He kept asking: "'Baby, am I on yet? Is this my scene?' 'Not yet! Not yet, Isaac!'") And she was overwhelmed by the generosity of Will Smith, who included and thanked every guest star.
Walker has some fun anecdotes about interactions with Hollywood luminaries. She fondly remembers meeting Elizabeth Taylor and Walter Matthau, and she'd see Dick Van Dyke picking up his dry cleaning. She had an unusual experience meeting one of her idols, Bette Davis. "My publicist said, 'Ms. Davis, I want you to meet Arnetia Walker, she's one of the stars of Dreamgirls,'" Walker recounts. "Bette looks at me, takes a puff of her cigarette, and says, 'So…what?'"
Spaces to Fill
Yet even with the glamour and grandeur of Hollywood, it had its drawbacks. She felt studio execs were quick to typecast actors, and she was frequently asked to play a seductress. Likewise, she faced an obstacle that, for the wider public, is only now getting the attention it deserves: the lack of roles for minorities.
"That was one of the other reasons that I went back to school, because if you're not part of the solution, you're part of the problem," she opines. "I didn't want to complain about, 'Oh, there are no roles for people of color.' Well, you know what? That means that there's a space there. There's a need there. Let's fill it. So, I had to learn how to write."
A New Role
Love and family would also change her life. She is married to journalist Elliott Francis, whose work as a news anchor brought them to the Washington, D.C. area. They have a son who is also attending college now. Walker attends AU part-time, as she also has a job teaching drama to kids.
At AU, she's able to learn from Hollywood experienced-professors (Russell Williams). And after realizing that the novel Wench was written by her professor Dolen Perkins-Valdez, she asked Perkins-Valdez for an autograph.
Even with her success, Walker says it took time to believe in herself. Like many actors, she'd get frustrated with hearing "no" after auditions, and many casting directors frequently wanted a "Whoopi Goldberg type."
"I'm only my type," she says now. "We come here with everything we need to flourish and soar. But somewhere in the mix, we lose that knowledge and forget that we are enough. We are enough for everything we want to accomplish, and it took me a long time to realize that."
The original article can be found here: https://american.edu/ucm/news/20170711-Arnetia-SOC.cfm
Your child can join Ms. Arnetia Walker for Musical Theater instruction this summer at The Cathay School in Rockville, MD.